Whether you're running a business or you're an employee looking for the best way to communicate with other workers or your boss, you've probably used Skype at some point. It's one of the most widespread and well-known video and voice calling apps out there, and its text chat system is pretty robust as well. However, you might not have known that there are plenty of alternatives to Skype out there, so if you don't like the app or can't use it for whatever reason, you have options. Here are our top 10 Skype alternatives.

If you primarily use Skype for its video calling feature, then Zoom is the app for you. While it imposes limits of 40 minutes for each meeting, that should be more than enough to get whatever business you need out of the way, and it also has a variety of fun features like customisable backgrounds and more. Pricing is competitive, too, with a Pro tier available for just £119.90 per year which adds cloud storage and extra premium apps into the mix.

Don't underestimate the capabilities of WhatsApp when it comes to rivalling Skype as a video and voice calling app. It has robust video and voice features, and you can send files, images, and other things to colleagues and friends as well. One potential downside to WhatsApp is its somewhat murky treatment of your data and privacy; many have criticised it for opaque data collection systems, and it's owned by the people behind Facebook, which may be a deal-breaker for you.

Microsoft owns both Skype and Teams, so whichever of these two apps you use, you'll be within the Microsoft ecosystem. If that's the problem for you with Skype, then Teams should be off your radar, but otherwise, Teams is a great meeting app that features voice and video calling functionality, as well as text chat so your team can communicate effectively. With a clean, simple interface and support for plugins for external apps like Outlook, Teams is a solid option for Microsoft fans.

Google Meet bills itself as a service offering "premium video meetings, now free for everyone", and that's pretty much what it does. You can meet with your teammates, chat to them, and use other meeting features like whiteboards and hand-raising to help make the meeting run smoothly. If you like Google Meet, there's also an additional paid tier available that adds extras like noise elimination and longer video calls for groups, so consider that if you're a fan.

If your team isn't using Microsoft Teams, then there's a very good chance it's using Slack. This isn't as much of a video and voice calling service (although its Huddle feature does allow you to chat with colleagues); rather, it uses a sort of IRC-style interface with lots of different channels that you can use to sort your teams into different groups. Slack is an essential tool if you have a workforce that you'd like to manage.

If you're more tech-inclined, then Jami may well be the Skype alternative that appeals most to you. It's a free, open-source program that doesn't have any ads or limitations, so if you and your team can wrap your heads around it, then you'll find a powerful app here. With audio and video calling functionality, screen sharing capabilities, and text messaging, Jami has most of the same features as its competitors, but it won't ask you to pay for any of them.

Unlike some of its peers, Crewdle doesn't use servers in order to facilitate communications. Rather, it uses peer-to-peer technology to ensure that users can talk to one another directly, eliminating the need for servers. Crewdle prides itself on being a green telecommunications solution; without servers, the environmental impact of teleconferencing is significantly reduced, so if you care about the planet (which you should), consider using Crewdle.

Privacy and data security are important concerns to a lot of people. If you're one of them, you should consider using Viber, which prides itself on offering "free and secure calls and messages to anyone, anywhere". It isn't quite as feature-rich as Skype or some of its alternatives, but if you care most about privacy and keeping your data safe, then Viber should definitely be one of your first ports of call. It's free, too, so you won't need to worry about paying anything for its services (although you will see a few ads here and there).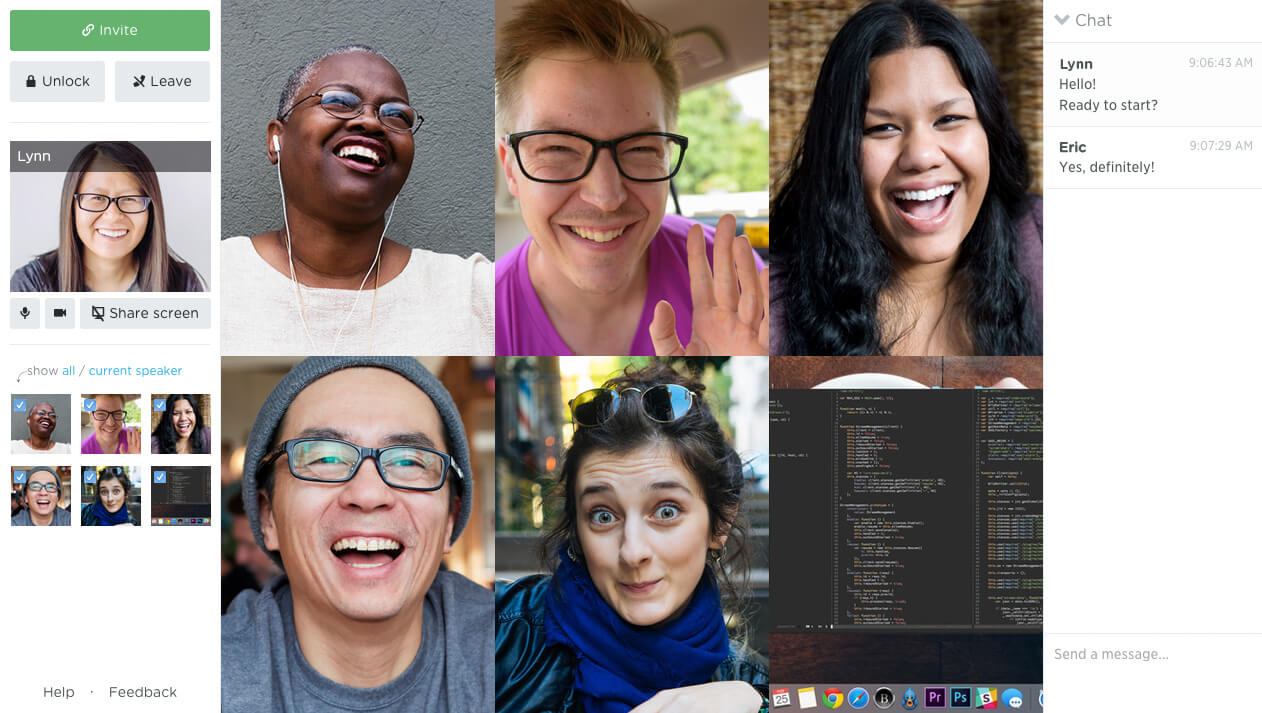 If you don't want to be encumbered by burdensome desktop apps, then Talky is the platform for you. It's entirely web-based, so all you need to do is head to the website and set up or join a chat. From there, you can talk to your friends or colleagues using video chat. You won't need to worry about privacy, either, because you can add locks to rooms that stop others from being able to freely access them. Talky isn't cross-platform, but it is a quick, easy, and free solution for teleconferencing.

Unfortunately, FaceTime is only available if you're using an iOS device like an iPhone or an iPad. If you do have one of these, though, it's a strong, fully-featured app that's surprisingly competitive. It has video chat, voice capability, and more, and it'll also let you share your screen or even watch movies with your friends if you like. Again, Android users and Windows PC owners are out of luck with this one, but if you're inside the Apple ecosystem, don't sleep on FaceTime.